DAY TWO OF TWO-DAY BOWEN BROTHERS TOY


Day 2: Marlyn Bowen of Cannon Falls, MN
Toys & Advertising
Located: Wakonda Legion Hall, Wakonda, SD
SUN., DEC. 21, 2014
Starting at 11:00 a.m.
Merry Christmas & Happy New Year! As a small way of saying thanks to all our great customers, Lunch & homemade Holiday Treats will be on us this weekend! It is just a small way of saying "Thank-you" for being the greatest bidders & sellers in the world!
Early Bird Auction at 10:00 a.m.: Huge Session - Diecast Cars, Rebuilder Toys, Box Lots of Smalls, & much more. Non-Catalog, you must be here to bid!
Live Internet bidding available through www.GirardBid.com!
Bid there without being there! Every lot photographed & described!
Over 450 Cataloged Lots! Highlights include:
LARGE PRESSED STEEL TRUCKS

1930's Buddy L Express Line Delivery—original
1930's Buddy L Tanker—repainted Texaco
1930's Buddy L Aerial Ladder Fire Truck
1930's Keystone Wrecker Truck-rp
1930's Keystone Water Tower Fire Truck-original
Sampson Gendron US Army Canopy Truck-original

TEXACO ADVERTISING

'63 Fire Chief Porcelain Pump Plate
'64 Porcelain Sky Chief Pump Plate
Touring Service Map Holder-nice
Early Scottie "Listen" Banner
5' Tall 1950's Santa Claus Standup
1960's Flag
Award Plaques
Brass Padlock
Cardboard Bear Punch outs
Havoline Building '34 World's Fair thermometers
Gas Pump S&P Shakers
1-pint Marine Oil Jar-mint
Cigarette Lighters, Cardboard Fire Chief Hats
Ashtrays
Figural Radios
Fire-Chief Gas Pump Ad Glass
5gal Oil Can
Several box lots of smalls & dealer advertising—Pens, Pencils, keychains, Paper & more

JOHN DEERE

Full Set of Precision Classics #1 thru #25—all NIB
Terry Rousch Grain Drill-awesome
Stephan R NIB
Riecke B
Custom 2520 w/ #48 Loader
Nolt #5 Mower NIB
Stephan 5b Plow
N&B B 2nd FL Show NIB
#45 Prestige Combine
Prec 110 L&G w/ Cart
Paddle Scraper w/ Windshield in Slik box
4430 2-caps NIB
4440 Duals NIB
450 Dozer
3010 metal rims 3pt
3020 wf
Hi-Post A
60-rp
14-T Baler metal teeth
4440 RC
4010 ROPS '93 TF
Yoder 720 D Standard
Yoder 730 Standard '93 Plow City
Yoder 720 & 730
'34 Ford JD Pickup w/ Gas pump
Chad Little #97 Golf Cart
1/64th Ottumwa & Dubuque Semis
(3) JD New Generation Popcorn Bags
1920's JD Pocket Ledger

ALLIS-CHALMERS

Franklin Mint All-Crop Combine
7060 Black Belly
8010 FWA
8070 FWA Museum
220 FWA '95 TF
D-21 S.E.
D-10 C.E.
Gleaner N6 Large Decal
Agco Gleaner R-62 Silver Rims L.E.
Gleaner L-2

TRUCKS

Rare 1953 Tonka Look Book-original
'53 Tonka Grain Hauler-original
Doepke Barber Green Track & wheel Loaders—both good originals
Marx RCA Plastic Panel Truck w/ Box
'46 GMC Grain Truck Hwy 61
Well's Blue Bunny #1 Semi Truck NIB
Kory Equipment 1/64th Semi Trucks
'95 Cargill 1/64th Semi
Several more 1/64th scale Semi's
Several 1st Gear Trucks NIB—Dump Trucks, Van Trucks, advertising & More

NYLINT TRUCKS

Green Stake Truck Farm Set w/ Animals NIB
Cadet Cattle Farm Ex-Cab Pickup w/ Cattle NIB
Cadet Stake Pickup w/ Bull NIB
City Delivery Truck—Clark Bobcat

LIONEL TRAINS

2016 Engine, 2025 Engine, 8632 NY Central Engine, Spirit of '76 Engine & Caboose
Milwaukee & Santa-Fe Ready to Run Sets, #1033 Transformer
Snap-on Tools HO Train Set

TEXACO TOYS

(2) Fire Chief Speaker Hats NIB
(2) AMF Wen-Mac Pumper Fire Trucks NIB
Jet-Fuel Tanker NIB
North Dakota Tanker Ship NIB
Large Texaco Caltex Wood Ship-unique
Wen-Mac Dolphin Tanker Ship NIB
Franklin Mint Mack Tanker
1947 IH KB-5 Texaco Firetruck Hwy 61
G-Scale Tanker RR Car NIB-nice
FAMM Texaco Ohio Tanker Model NIB
Buddy L Texaco Highway Stop Set
Caltex Australian Gas Station
Teddy Bears
Huge assortment of Texaco Trucks, Airplanes, Gas Pumps, Cars, Boats, Banks & Diecast—all sizes

4-WHEEL DRIVES

Big Bud 16V-747 Large 1/16th scale—both variations—NIB—never displayed!
Valley Patterns Custom CaseIH 9130 w/ Duals—mint in Box
C-IH 9370 Triples '95 Fargo
9380 Triples '97 C.E.
Versatile 1156 Lemon Top w/ Duals
Versatile 825 w/ Duals L.E.
Steiger Panther CP-1400 w/ Duals
Ag-Chem 1664T Dry Spinner Terra-Gator 1 of 2,000 NIB
C-IH Quad Track 1/32nd '96 Denver
NH Ford 9882 1/32nd C.E. NIB

IH

560 wf w/ singles '78 #1 Toy Farmer-mint in box!
Custom 660 '89 Michigan
3588 2+2 NIB
6388 2+2
806 metal rims
560 w/ Loader
460 w/ 2pt-rp
5088
5288 duals
Cub Cadet 682
706 '92 Ontario
656 '96 Ontario
1026 ROPS '97 Summer Show
1256 '98 Summer
1456 '96 TTT's
706 ROPS TTT's
1026 & 826 Golden Demos
450 Demo
Precision M
Super WD-9 '93 Museum
10-20 on steel
'90 Michigan Toy Show 1/64th Hauling Set w/ C-IH 7210's

CASE

1070 Black Knight—original
Spirit of '76 Dark Decal
2390 & 2590 C.E. Silver Muffler NIB
2590 Black Muffler
Agri-King's
1030-rp
1170 GD '96 TF
Silver 580D Loader/Backhoe NZG
DC nf
Buckboard Wagon

OTHER FARM TOYS

Marx CAT Tin Dozer w/ Box
MH Reuhl Self-Propelled Combine-restored
White 9700 Combine on Plaque NIB
Mamond Steam Engine
MH 555 Gold Motor w/ Plow 2pc Set
MH Dinky Toys Set
Cletrac HG Crawler '00 Summer
Ford NAA Jubilee w/ Blade Precision
Ford 9N w/ Plow
MM 4-star Super
MM G-750 FWA '94 TF
MM U SFW '95 Louisville
MM UDLX
NH TR96 Combine
Oliver 1655 FWA '95 Sugar Valley
Tru-Scale Farm Toys
Some 1/64th Farm toys
Several 2x the money farm toys of all brands

OTHER TOYS & ADVERTISING

Boots Boy Electric Mystery Clock-rare
Restored Standard Oil Can & Water Can
Skelly Captain Midnight Pinback
Ertl A-Team Van NIB
1/3rd Scale Pedal Cars
Several Hallmark Pedal Cars
100+ Hallmark Keepsake Ornaments NIB
Advertising Bobble heads
Maryln Bowen
of Cannon Falls, MN
Along with other select consignments
Terms: Cash, Good Check, Visa, MasterCard. SD sales tax applies. 10% Buyer's Premium on Internet & Absentee bids only. Absentee bids welcomed & encouraged!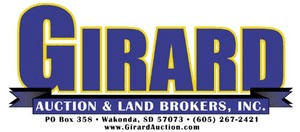 (605) 267-2421
www.GirardAuction.com
www.GirardBid.com